Catch Me When I Fall by Vicki Leigh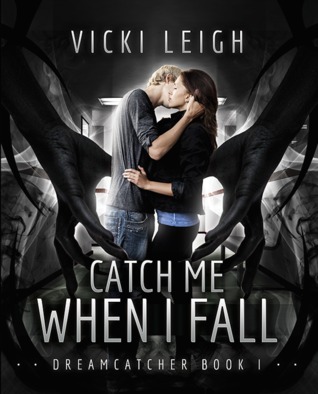 Daniel is a 200 year old Protector, people who spend their afterlife protecting humans from Nightmares, which are creatures who invade people's minds and make them go insane. Daniel's job is a Catcher, someone who stops the Nightmares, and he partners with other Catchers and at least one Weaver, whose job it is to bring humans dreams. When Daniel is assigned to protect Kayla, a sixteen year-old girl in a mental institution, he knows he'll have his work cut out for him—and this goes double when, during his first night on duty, Kayla is attacked by six Nightmares at once. The race is one to find out why Kayla is a special target, but the more Daniel digs into Kayla's history, the more he finds himself attracted to her.
For the most part, I really liked Daniel's character, and he was the right choice as the focus on this story. His personality and the world-building is established immediately, and there's a lot of history between Daniel, Seth, Sam, and Tabbi that is hinted at; I got the impression that these were people who'd been friends for a long time. They shared stories, had that easy lingo that exists among friends, and it simply made them human. These characters are also funny, which is a huge plus for me in a paranormal book. Some of the older characters like Giovanni, Bartholomew, and Trishna aren't as fleshed out, but they don't have to be; they serve their given roles well.
But if you don't like Kayla, this book might not work for you because the stakes of the story are tied up in Kayla, her past, and her budding relationship with Daniel. I personally found Daniel and Kayla's relationship to be freaking cute, and they share a lot or realistic couple moments. Kayla is the catalyst that raises Daniel's mission from 'everyday business' into 'life-threatening weirdness.' Kayla, as a character, worked best for me early on the in the novel when she was institutionalized. After she leaves the hospital, I never felt she grew much as a character, even as her relationship with Daniel progressed. In the end, Kayla was supposed to have a connection to the antagonist that felt hollow for me, which is a shame because it did weaken the finale of the story.
This gets to the larger plot issue in this book: the ending didn't feel like it had the emotional weight it needed to have. Maybe it happens too quickly or the bonds between various characters never materialized, but the villains ended up feeling weak. There should seriously be an emotionally strong reaction to the climax of this story, but it just rang a bit hollow for me. The ideas are there, and the protagonists are fleshed out, but there's never a moment when I believed Kayla would go 'dark side'; it just wasn't a plot that was set up, and nothing in her character up until that point indicated it would be. Daniel's battle with the surprise villain of the story also should've carried more weight, but there was never a moment where I felt Daniel cared for this character as a person, so the betrayal at the end didn't register anything more than a superficial reaction.
That said, there are some great twists and battles building up until the finale that are satisfying; Daniel and Kayla face off against a wraith, which really gets the plot rolling. There's a great feud between Daniel, Seth, and Ivan early on in the novel as well that establishes that everything might not be sing-alongs and hand-holding circles in Protector manor; they're the good guys, sure, but not all of them are good people. There are copious fights against Nightmares and the witches and warlocks use powerful magic throughout the story, too. Kayla's flashback showing how she was put in the mental institution is intensely real, and I loathed the way her mother treated her after the incident; that entire scenario felt so real to me.
There's a lot of good character work with the protagonists in this novel. They're funny, they're grounded in an interesting world, and the main protagonists feel unique. The initial plot and premise was very interesting, and it kept me wanting more. However, the plot did fall apart near the end, and the emotional stakes between protagonist and antagonist didn't quite reach the level they needed to for this story to deliver on its strengths.
Random Thoughts:
"Lasso my heart" was a very beautiful line—one of the best ways I've seen a budding romance described recently
I would read a novella about Seth's antics with the Pope.
The Veronica Mars dream would've been so worth having nightmares for.
Daniel's crack about girls liking to shop made me dislike him for a while. Seriously, dude? You've been a live 200 years, and that's what you take away from your time watching women? It's a joke, but still—UGH.
I wanted more Ivan and Nolan because they're both sardonic a-holes, which are my types of characters.
Read if: You want a paranormal romance with a strong, male romantic lead who doesn't read poetry or swoon. The relationship in this story is seriously cute but not sappy.
Beware if: You want a story with interesting villains. This story doesn't have one, unfortunately, even though it has plenty of supernatural monsters.
My rating: 4 stars because Daniel was the main character and the world building is strong, but the villians let me down.